Not long ago I relocated to my home state, Kentucky, and had the pleasure of revisiting the Kentucky Military History Museum. It reopened recently, after a five-year renovation project. Here are my thoughts about what I found:
Quality of research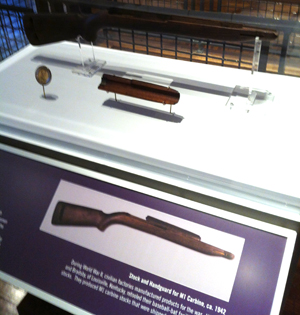 The text was generally minimal (which I like), but I thought it was also spot-on. One aspect of the researchers' honesty was particularly refreshing, and actually served as a marker to me that this is indeed a Kentucky history endeavor: Several placards stated that the nearby item was thus and so, "according to family lore." This made it clear that the curator and researchers were unable to independently verify certain claims about an item, but also lent a certain degree of credence to the families and their legends. I thought this approach straddled the line of good research vs. tall-tale pretty comfortably.
Flow/organization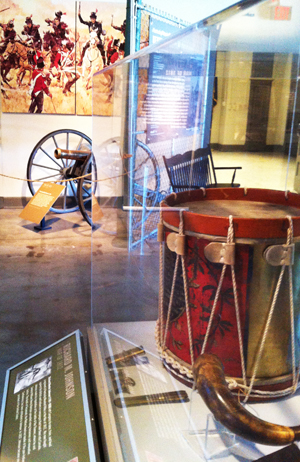 The museum is organized on two floors. The first floor covers the 18th century and the American Revolution to the Spanish American War. On the second floor, visitors can see artifacts from the 20th century and even a few from the post-9/11 era. One thing that was striking about a few of the oldest artifacts, trophies from British units defeated in the War of 1812, was how the defeated units were of the highest caliber. These trophies were not unlike artifacts that I have seen in regimental museums in Britain, serving not as trophies, but as unit history. But there they are, in the Frankfort arsenal, captured in battle by a backwoods rabble and preserved for centuries, memorializing American victory and Kentucky's war-making acumen.
The second floor features a few treats. Besides the usual World War II and Vietnam fare which is to be expected at military museums, the KMHM has a fascinating collection of prototype and experimental weapons. There are also a few kiosks where visitors can hear bits of oral history interviews with Kentucky veterans.
Interest to historians, and non-historians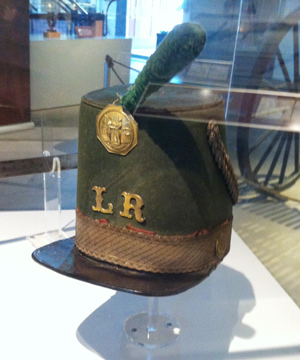 Some days it seems to me that nearly every Kentuckian is an historian. In that light, this museum is for all Kentuckians, because nearly every item on display is tied to one Kentucky family or another. Even "non-historians" will find something here with which they can connect. (If you have family members who are still bored out of their skulls, they will at least find the KMHM mercifully small.)
Vitality ("Revisitability")
The Kentucky Historical Society has an "online exhibit" at its website,  which reveals that there's 'more where that came from.' The museum collection includes more than 1,000 firearms and nearly 300 edged weapons. Of course, not all of these are on display, which means that this museum has nearly unlimited revisitability. If the curators manage their collection and displays well, there will always be good stuff to see there.
Multimedia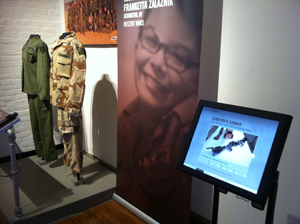 Multimedia was minimal, but well-done. Aside from the oral history stations, there were touch-screen kiosks with access to the museum's online exhibit. This serves as a window on what visitors might expect to see on future visits, and connects the artifacts on display to the greater whole of the KMHM collection.
Should you go?
There are a lot of fascinating things to see in Frankfort, Kentucky. I recommend adding this museum to your list of activities if you ever find yourself in the Commonwealth's capital. It is directly across the river from the capitol building and will take between 20 and 90 minutes to peruse.
(Main photo: A full rack of Springfield 1903s and Colt 1911s are on display in the arsenal where they were housed before they became museum artifacts.)
Interesting links
Kentucky Military History Museum