Today in 1966, the National Historic Preservation Act became law, and it launched a massive effort to save historic buildings around the country that were in danger of encroaching urban sprawl and demolition. (You can read the act here. It is a well written defense of history.)
In thinking about the effects of this momentous event, I realized that each of us have probably directly benefitted from one or more of these buildings. In a moment, I'll share some of the locations on the National Register of Historic Places that have made an impact on me.
Another thing that occurs to me when I visit an old building, is how they seem to contain traces of the people who lived or worked in them. Even if you leave supernatural "hauntings" out of it, there is a sort of residual memory (real or imagined) of bygone residents on the floors, mirrors, and door handles of an antique place.
And I think that is crux of why buildings are important to history: History is not only made of people and events, but also places, and preserving those places is just as important as archiving letters and writing books.
The importance of these history tasks is not just in the altruistic doing of them, but in the effect it can have on people, even children, as they learn the significance of their own context in time and space, and in relation to people all around them, including those who occupied the same space years before.
Not long ago, the New York Public Library made a large amount of its photos available online in the public domain, including a collection from the tenement house inspection department. The main photo you see on this post comes from that collection. Elisabeth Sherman gives a great description of them here.
You can see the whole collection here.
There is an intimacy in some of these photos that makes the past seem much nearer, and causes me, when I visit other historic spaces, to imagine people from bygone eras living in them.
Here are six places that were preserved by the National Historic Preservation Act which have made a particular impact on me:
1. Holly Rood
This is the Governor James Clark mansion located in Winchester, Kentucky, just down the street from where I grew up. It literally overshadowed my childhood, and was one of the first buildings that gave me a sense of my place in history. As a youngster, I often walked to the local library, which for decades had been located in an old church building downtown. In 1997 though, they built a new library behind Holly Rood and I began to walk past the house on an almost daily basis. This was in the formative time of my high school years, when, through the vast riches of my library, the importance of history took deep root. Holly Rood served as a subconscious beacon for that development. This house was the first location in Clark County to be listed on the National Register of Historic places. http://focus.nps.gov/AssetDetail/NRIS/74000859
2. Jackson Square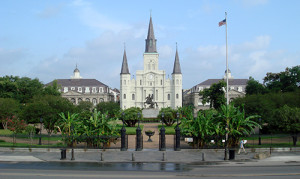 Jackson Square is the center of the French Quarter in New Orleans, Louisiana, and is the oldest American locale that I have explored in depth. I lived in Louisiana for almost three years, and visited New Orleans every chance I got. There are countless historical treasures in the city, but Jackson Square is the centerpiece, and was added to the registry as soon as the NHPA was passed. This location will always hold fond memories of my time there, and with its layers of French, Spanish, British, and American history, it helped me see the United States as a gumbo that has been a long time in the making. http://focus.nps.gov/AssetDetail/NRIS/66000375
3. Sagamore Hill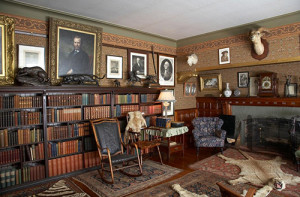 Sagamore Hill is President Theodore Roosevelt's home on Long Island, New York. On my only visit to New York, this was the most memorable site that I visited. This home is off the beaten path, but is well worth the time to visit. Roosevelt is well known as a champion of the National Parks system, without which efforts like the NHPA would not be possible.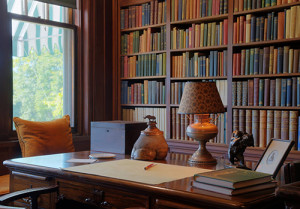 Along with his work to preserve natural resources, Roosevelt also understood the importance of history to our success: 
"It is not what we have that will make us a great nation; it is the way in which we use it."
http://focus.nps.gov/AssetDetail/NRIS/66000096
4. Tombstone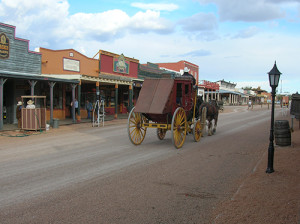 Tombstone, Arizona was my first experience of the American southwest. It is a silver mining boomtown of the late 1800s, and is most famous as the location of the O.K. Corral  and the Earp/Clanton feud. The historic district is fairly well preserved and there are several buildings open to visitors. http://focus.nps.gov/AssetDetail/NRIS/66000171
5. Fort Lewis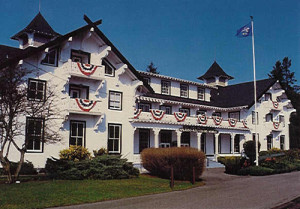 The Red Shield Inn, pictured here, now houses the Fort Lewis museum in Washington state. Fort Lewis is where I received my first Army training, and is the location of my last unit, so it represents a narrative circle for my time in the Army. This museum, by the way, is an excellent one, and features a great number of weapons and uniforms. http://focus.nps.gov/AssetDetail/NRIS/74000859
6. Old Kentucky Capitol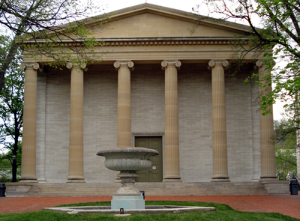 Kentucky's Old Capitol building, located in Frankfort, Kentucky serves me as a space to reconnect with my with state history. This is the site where the current version of the Commonwealth's constitution was passed, and the crime scene of the only assassination of a state governor in U.S. history. This space is dripping with stories. It is also special to me as the place where my children are first encountering Kentucky history, through the occasional tour and our frequent visits to just play on the lawn and front porch.  http://focus.nps.gov/AssetDetail/NRIS/71000346
What places have made the most impact on you? Browse a complete listing here, and tell us about them in the comments below.
Have you learned anything here today? If so, that is a great reason to share this post with your friends!